25 Things to Do in Pigeon Forge
Published Jul 24, 2019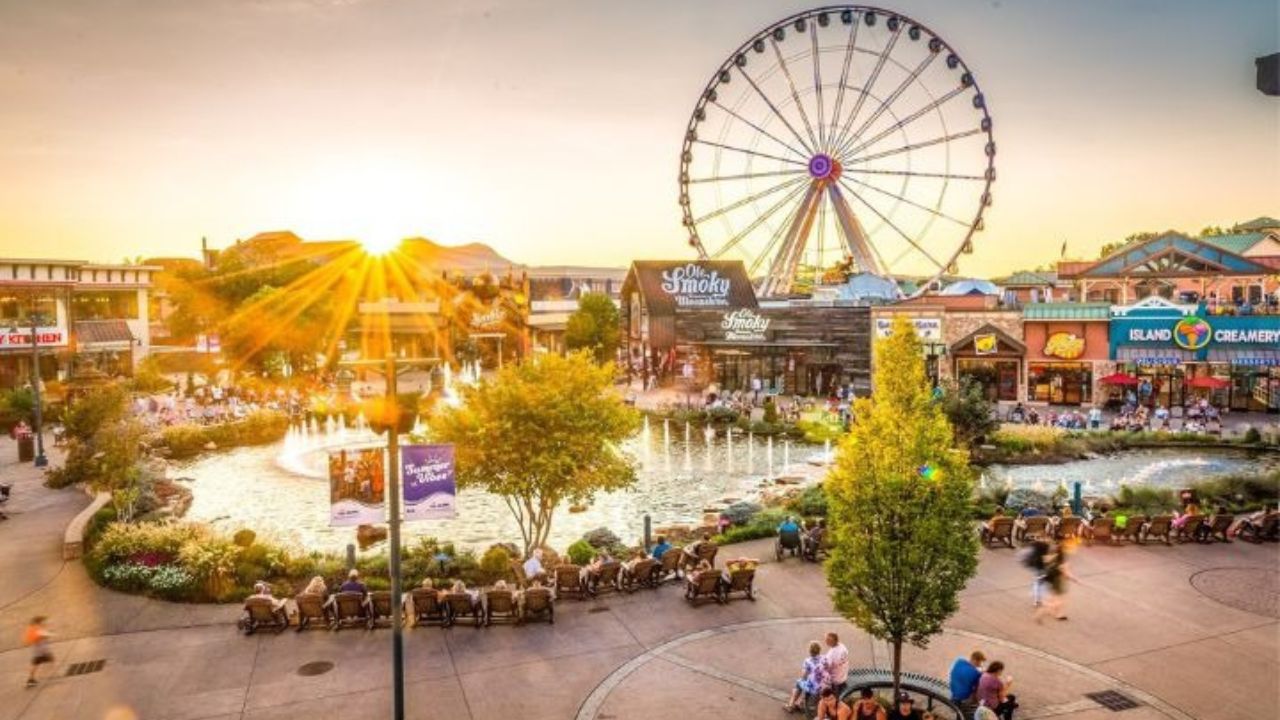 There are so many things to do in Pigeon Forge, Tennessee. Check out these 25 fun and exciting things to do in Pigeon Forge for you and your family to enjoy on your next vacation to the Smoky Mountains.
1. Dollywood
Considered one of the world's premier theme parks, Dolly Parton's Dollywood features rip-roaring rides, delectable fare, and stellar entertainment—all surrounded by breathtaking views of the Great Smoky Mountains. From live artists performing country, southern gospel, classic rock 'n' roll, and Appalachian music, to master craftsmen showcasing glass blowing and blacksmithing, Dollywood is brimming with the rich heritage and artistry of the Smokies.
2. The Old Mill
Built-in 1830, The Old Mill in Pigeon Forge still operates to this day! See how farmers once employed the greatest in 19th-century hydropower technology to grind flour and meal. Plus, learn how pottery and candy were once made by hand. Today, The Old Mill is a working tribute to the pioneer days of the Great Smoky Mountains.
3. The Island
The Island in Pigeon Forge is your one-stop in Pigeon Forge for affordable family fun all night and day! Explore a terrific new shopping and entertainment complex with more than sixty retail and specialty shops, a number of popular restaurants and eateries, rides and games, dancing fountains, live music, attractions, and much more.
4. Pigeon Forge Car Shows
Classic cars, beautiful Corvettes, off-roading Jeeps, and other popular car shows visit Pigeon Forge each and every year. Check out this complete list of Pigeon Forge Car Shows this year in the Smoky Mountains.
5. Hatfield and McCoy Dinner Feud
Become part of the longest-running feud in history and help the Hatfields and McCoys try to settle their differences mountain-style. Whether you're city-folk or country cuzins, you'll love the singin' and dancin', mighty feats of strength, jaw-dropping stunts, and side-splitting comedy.
6. The Great Smoky Mountain Wheel
Towering 200 feet tall, the Great Smoky Mountain Wheel sits at the foot of the most visited National Park in the United States–Great Smoky Mountain National Park. As the centerpiece to the Island in Pigeon Forge, it stands as one of the tallest attractions in the Southeast!
7. Pigeon Forge Cabins
Fun, excitement and everlasting memories await you in beautiful Pigeon Forge, Tennessee. Our cabin rentals in Pigeon Forge are the perfect place to enjoy your next vacation getaway to the Smokies. Our Pigeon Forge cabins feature mountain views, swimming pools, hot tub, game rooms, and so much more!
8. Pigeon Forge Snow
The first indoor snow facility of its kind in the U.S. offers real snow and indoor snow tubing year round. Pigeon Forge Snow uses state-of-the-art snow-making technology to transform the 35,000-sq.-ft. indoor facility into a winter wonderland, complete with 15 lanes of snow tubing. Instead of using synthetic material, the attraction's slopes are covered in genuine fresh powder
9. Smoky Mountain Alpine Coaster
Smoky Mountain Alpine Coaster – The One Thrill Ride You Control! Located just 1.4 miles off of the Parkway in Pigeon Forge, the Smoky Mountain Alpine Coaster is the longest Alpine Coaster in the United States. The track is more than a mile long. Plus, you get to control how fast your ride is. How cool is that!
10. Authentic Brazilian Steakhouse
Gaucho Urbano is the newest restaurant to call Pigeon Forge, Tennessee home. This upscale Brazilian Steakhouse features mouthwatering entrees, a full-service bar, an amazing salad bar, a wonderful wine menu, specialty drinks, and so much more! There are 3 levels of dining options, all of them "all-you-can-eat."
11. Alcatraz East Crime Museum
Two of Alcatraz East's most popular exhibits take a look deeper into serial killer Ted Bundy and the famous white Ford Bronco driven by O J Simpson. Spanning over 25,000 sq.ft. with over 100 interactive exhibits, you're certain to enjoy a visit to Alcatraz East Crime Museum!
12. Paula Deen's Family Kitchen
Paula Deen's Family Kitchen offers guests the comfort of family-style dining along with the enjoyment of classic Deen Family recipes, such as Southern-style entrees and delicious side dishes. Serving breakfast, lunch, and dinner, our full-service, nearly 300-seat dining area upstairs provides the perfect spot to enjoy a meal while visiting Pigeon Forge with family and friends.
13. Go Carts at The Track
This attraction features 4 different Go Kart rides that are certain to fill all of your adrenaline and excitement needs! The Track also offers Kiddie rides, bumper cars, bumper boats, mini golf, and an amazing and exciting arcade! This attraction is sure to add plenty of fun and excitement to your Smoky Mountain Getaway!
14. Dolly Parton's Stampede
Watch as 32 magnificent horses and a cast of top-notch riders thrill you with daring feats of trick riding and friendly competition. The show culminates with an emotional musical conclusion set to a patriotic salute of Red, White, and Blue—featuring Color Me America, written and recorded by Dolly Parton herself.
15. Crave Golf Club
Experience the hole-in-one entertainment destination that has changed the way families come to play in Pigeon Forge at Crave Golf Club. With 38 holes of customizable play featuring indoor, outdoor, and even rooftop courses, it's a candy-coated wonderland! This double-decker indoor and outdoor mini-golf courses, putting greens and a sweet snack shop make Crave Golf Club a must-see/must-do in Pigeon Forge.
16. The Island Fountain Show
This state-of-the-art, multi-tiered show Fountain Show at The Island features a stunning presentation of water dance and light, all perfectly choreographed to 14 pieces of music. While more than 89 vertical nozzles create lively movement and set the show's pace, six motion-based nozzles create graceful water sprays that swirl to the music. Seemingly competing for attention, a geyser nozzle shoots powerful bursts of water 60 feet in the air, creating drama and flair.
17. Pigeon Forge Movie Theater
Forge Cinemas is a state-of-the-art movie theater conveniently located in downtown Pigeon Forge, Tennessee featuring ALL digital movie projection, stadium seating for the best viewing possible, digital surround sound, an expanded concessions area, and much more! Catch all of the new releases on the big screen when vacationing in Pigeon Forge!
18. Local Goat Restaurant
Local Goat in Pigeon Forge, Tennessee is a New American restaurant with a scratch-made kitchen specializing in locally-sourced and sustainable menu items. Local Goat offers a wide array of appetizers, jumbo wings, and awesome salads. hearty steaks, chops, fall-off-the-bone ribs, and outstanding desserts.
19. Country Tonite Theatre
Located on the Pigeon Forge Parkway, our 1,500-seat, multi-million-dollar theatre is equipped with state-of-the-art sound, lighting, and video with two giant screens. Experience this two-hour powerhouse production, featuring the best singers, dancers, and musicians in the business—all on one stage in a variety of performances (not just Country).
20. Old Mill Restaurant
The Old Mill in Pigeon Forge, TN, was built back in 1830 and is still running today. Visitors can dine on classic family favorites such as country-fried steak and pot roast before watching meal and flour being ground by the iconic mill.
21. Mel's Diner
Mel's Diner in Pigeon Forge, Tennessee offers guests a retro-classic 50's diner experience with classic American food made to order. From burgers to banana splits, Mel's Diner is a great place to enjoy a delicious meal in Pigeon Forge!
22. Hollywood Wax Museum
Come play with the stars at Hollywood Wax Museum in Pigeon Forge! You'll get the chance to pose with your favorite stars and use provided props to ham it up for super-fun selfies. Walk the red carpet with Hollywood's elite, sing along with pop stars, come face-to-face with horror villains and even put on a wedding dress and marry a star! You'll also discover little-known facts about your favorite show-biz personalities, including surprising details about their pets, pet peeves, accomplishments, charity work, and more.
23. Dollywood's Splash Country
Nothing beats the Tennessee summer heat quite like splashing around at Dollywood's Splash Country. At this award-winning water adventure park, guests can relax in a poolside retreat or zip through RiverRush, Tennessee's first and only water coaster. Nestled in the Great Smoky Mountains, Dollywood's Splash Country is designed to be uniquely—themed around the brilliant natural landscape of the area. The park has received national and international recognition including being named America's Must-See Park by the International Association of Amusement Parks & Attractions. Dollywood's Splash Country also was listed as one of America's best water parks by The Travel Channel. With giant water slides, family rides, and splash pools for children, there is fun for the whole family, both the daredevil and the less adventurous.
24. Comedy Barn
The Comedy Barn Theater is the Most Successful and Most Attended Clean Comedy Theater in the World – twenty-four years and counting! Get your entire family ready to laugh with fun barnyard animals, magicians, jugglers, ventriloquists, comedians, and live country and gospel music! It's a night of a thousand laughs – guaranteed! Bring the kids, bring your neighbors, bring your Pastor, bring Uncle Jack, bring your Granny – well you get the picture – bring EVERYONE for an evening of entertainment that's sure to get your giggles going!
25. Foothills Parkway
Originally authorized for construction by Congress in 1944, the remaining sections of the Foothills Parkway have been slow to develop, mainly due to construction costs and the mountain terrain. The missing 16-mile segment of the Foothills Parkway travels between Wears Valley (just outside of Pigeon Forge) to Walland in Blount County, at which point travelers can continue on the 17-mile stretch between Chilhowee Lake and Walland, which was completed in 1968. The "missing link" of the Foothills Parkway offers magnificent views of the Great Smoky Mountain National Park and the valleys below. While traveling the new section of the Foothills Parkway, visitors will cross 10 bridges, each numbered east to west.