4 of the Best Smoky Mountain Visitor Centers
Published Sep 21, 2023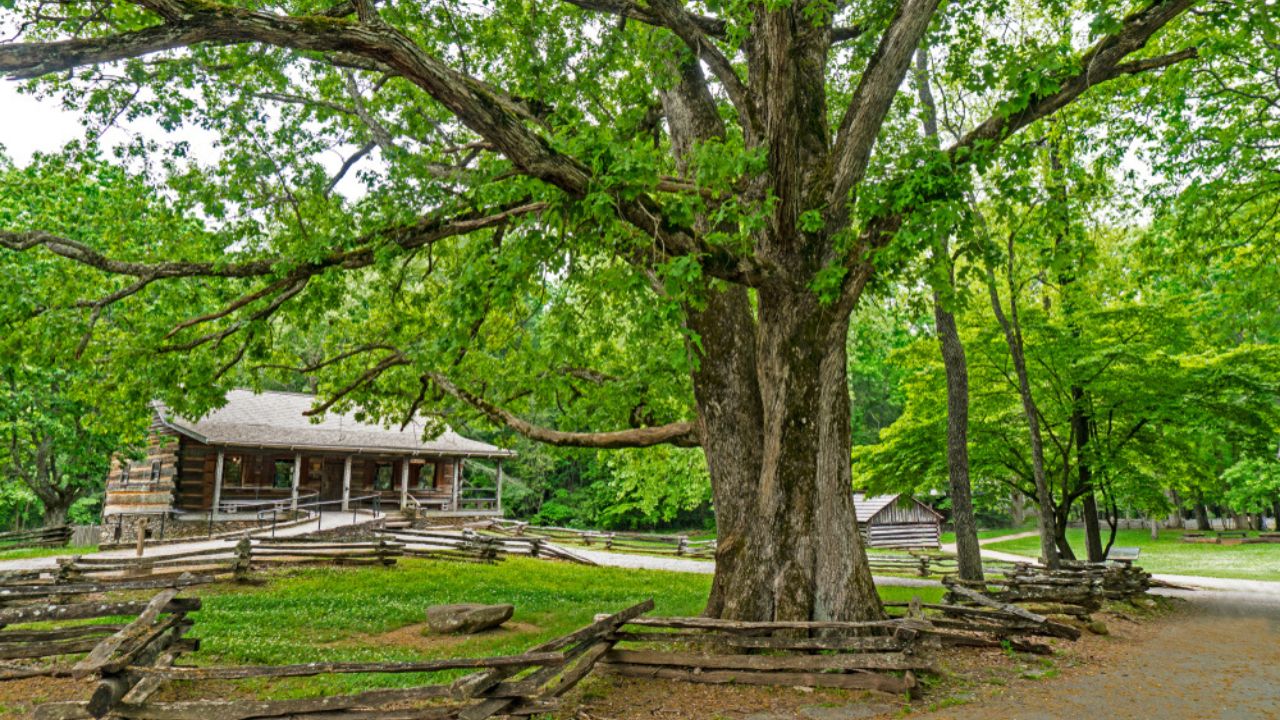 Great Smoky Mountains National Park boasts visitor centers with exhibits, shops and trails to explore. Get to know these four National Park Service centers before you set off on mountain adventures.
All centers have restrooms and rangers on site. All centers sell parking tags, now required throughout the park.
1. Sugarlands Visitor Center
Located near the end of the Gatlinburg Parkway, Sugarlands is a great introduction to the Smokies. Watch a 20-minute video about the park's history and enjoy exhibits about native animals.
Sugarlands is home to the backcountry permits office where you can get the required permit to hike and camp in remote areas.
Three easy trails begin here: Paved Gatlinburg Trail is dog-friendly. Fighting Creek Nature Trail takes you past historic cabins. Cataract Falls Trail rewards you with a 25-foot waterfall.
Open 9-5 daily except Christmas. Winter hours 9-4:30, Dec. 1 through Feb. 28.
2. Cades Cove Visitor Center
Serene Cades Cove is a valley famed for historic buildings and abundant wildlife. Perfectly fitting into its setting, Cades Cove Visitor Center is an authentically built log cabin. You can find history exhibits and souvenirs here, plus truly local treasures: The shop sells meal freshly ground on millstones at the historic Cable Mill nearby!
Open 9-5 daily except Christmas. Winter hours 9-4:30, Dec. 1 through Feb. 28.
3. Clingmans Dome Visitor Contact Station
Clingmans Dome is the highest point in Tennessee. The observation tower is a dramatic spot for stunning 360-degree vistas. To reach the tower, park at the visitor station. You have to continue your trek on foot, along a steep but paved half-mile trail. Pause at the center to pick up maps, talk to rangers and check out displays about this impressive peak.
Open 10-6 daily; closed on some holidays. Closed Dec. 1 through April 10.
4. Oconaluftee Visitor Center
Just outside Cherokee, N.C., this center features fascinating displays on the Cherokee Nation, the role of the Civilian Conservation Corps in creating the park, and more. Walk next door to the free Mountain Farm Museum, traditional buildings relocated here to show how settlers lived a century ago.
The center is the trailhead for the Oconaluftee River Trail, a forest trail following the river toward town.
Open 9-5 daily except Christmas. Winter hours 9-4:30, Dec. 1 through Feb. 28.
Stay in a cabin with a mountain view that's yours alone. Reserve your Smoky Mountains cabin today!