42 Wonderful Things to Do in Pigeon Forge, TN
Published Feb 22, 2022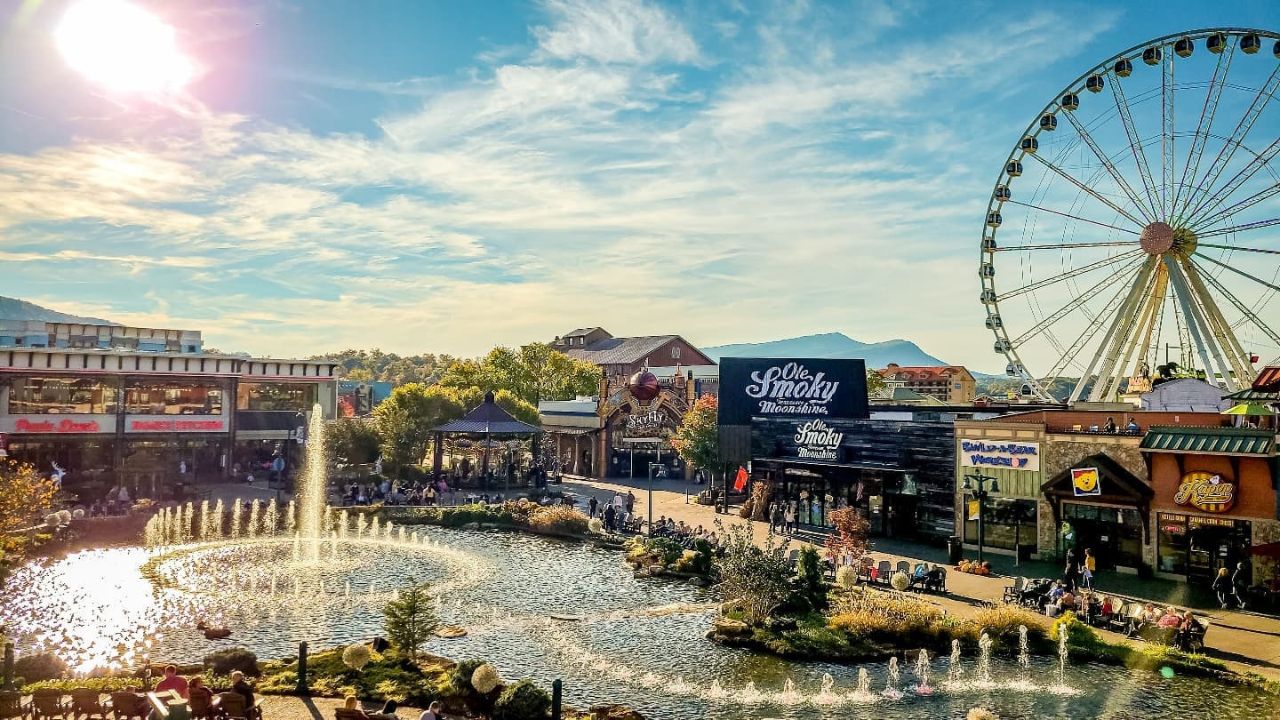 Pigeon Forge is the place to be for vacation fun, excitement, adventure, and entertainment. Check out these 42 wonderful things to do in Pigeon Forge, Tennessee.
1. DOLLY PARTON'S STAMPEDE
Watch as 32 magnificent horses and a cast of top-notch riders thrill you with daring feats of trick riding and friendly competition at Dolly Parton's Stampede. The show culminates with an emotional musical conclusion set to a patriotic salute of Red, White, and Blue—featuring Color Me America, written and recorded by Dolly Parton herself.
2. PIGEON FORGE SNOW
Pigeon Forge Snow, the first indoor snow facility of its kind in the U.S., offers real snow and indoor snow tubing year-round. The attraction uses state-of-the-art snow-making technology to transform the 35,000-sq.-ft. indoor facility into a winter wonderland, complete with 15 lanes of snow tubing. Instead of using synthetic material, the attraction's slopes are covered in genuine fresh powder. Play areas will allow guests to build a snowman and have snowball fights. For guests' comfort, the indoor climate will remain between 60 and 70 degrees 365 days a year.
3. PIRATES VOYAGE
Pirates Voyage invites you to join the most famous pirate, Blackbeard, and his quartermaster Calico Jack as they lead the Crimson and Sapphire crews in a battle on land, on deck, in water, and high above full-sized pirate ships in a 15-foot deep indoor hideaway lagoon! Pandemonium breaks out in an unbelievable battle with sword fighting, cannons blazing, pirates scaling masts, and swinging ship to ship, fighting to win the coveted Davey Jones sunken treasure. Feel the heat of a lagoon of fire, shiver as skeletons appear from the deep sky above during a fierce storm. Even Salty the sea lion joins the action and beautiful mermaids gracefully perform before diving back into the sea. As the action begins, the delicious four-course pirate feast is served starting with the Buccaneer Biscuit and Voyager Creamy Vegetable Soup. The Cracklin' Pan-Fried Chicken, Swashbucklin' Sugar-Cured Ham, Corn on the Cob, and Herb-basted Potato are sure to please even the pickiest of pirates and are followed by the Walk the Plank Peach Turnover with unlimited Coca-Cola, Tea, or Coffee.
4. PAULA DEEN'S LUMBERJACK FEUD SHOW
Audience members will be treated to an unforgettable experience as they journey back in time to the days before the establishment of the Great Smoky Mountains National Park when the logging industry ruled the area. The show features an "end-of-season" feud between two families whose names were synonymous with the timber business – the Dawson's and the McGraw's. World-class lumberjacksrepresent both families in a variety of thrilling, fast-paced tests of skill and prowess ranging from chopping and axe throwing to tree climbing and log rolling. Guests become part of the experience as they join in the competitive spirit, cheering for their Dawson or McGraw lumberjack family.
5. CRAVE GOLF CLUB
Crave Golf Club is a hole-in-one experience that has changed the way families come to play in Pigeon Forge. With 38 holes of customizable play featuring indoor, outdoor, and even rooftop courses; it's a candy-coated wonderland! Enjoy climate-controlled mini-golf in our 18,000 square foot building, or experience the fresh air and scenic views on the rooftop course! Want to add even more fun to your visit to Crave Golf Club? Be sure to check out our mini bowling, escape rooms, and candy store to sweeten up your Pigeon Forge trip!
6. TOPJUMP
TopJump is Sevier County's first-ever trampoline park. It offers a safe and extreme adventure for people of all ages. TopJump features all of the traditional trampoline park attractions including Open Jump, Air Bag, Ninja Course, Basketball, Dodgeball, and a toddler area!
7. COMEDY BARN THEATER
Get your entire family ready to laugh with fun barnyard animals, magicians, jugglers, ventriloquists, comedians, live country, and gospel music! Enjoy a night of a thousand laughs – guaranteed! Bring the kids, bring your neighbors, bring your Pastor, bring Uncle Jack, bring your Granny – well you get the picture – bring EVERYONE for an evening of entertainment that's sure to get your giggles going!
8. DOLLYWOOD'S SPLASH COUNTRY WATERPARK
Nothing beats the Tennessee summer heat quite like splashing around at Dollywood's Splash Country. At this award-winning water adventure park, guests can relax in a poolside retreat or zip through RiverRush®, Tennessee's first and only water coaster. Nestled in the Great Smoky Mountains, Dollywood's Splash Country is designed to be uniquely themed around the brilliant natural landscape of the area. The park has received national and international recognition including being named America's Must-See Park by the International Association of Amusement Parks & Attractions. Splash Country also was listed as one of America's best water parks by The Travel Channel.
9. DOLLYWOOD
Considered one of the world's premier theme parks, Dolly Parton's Dollywood features rip-roaring rides, delectable fare, and stellar entertainment—all surrounded by breathtaking views of the Great Smoky Mountains. From live artists performing country, southern gospel, classic rock 'n' roll, and Appalachian music, to master craftsmen showcasing glass blowing and blacksmithing, Dollywood is brimming with the rich heritage and artistry of the Smokies.
10. ALCATRAZ EAST
Alcatraz East, a must-see for CSI fans, gives visitors a behind-the-scenes look at crime history in America. The 24,000 square foot, 2 story attraction is themed as a 19th-century prison, inspired by the infamous Alcatraz in San Francisco. Alcatraz East includes interactive displays and artifacts covering criminal intent, criminal profiles, victims' stories, law enforcement, forensic science, and more. John Dillinger's car, Al Capone's rosary, and the Bronco from the OJ car chase are only a few of the authentic artifacts on display. Guests of all ages will enjoy compelling and educational exhibits such as a CSI lab, safe cracking, simulated shooting rage, DUI interactive safety training, and digital fingerprinting.
11. WONDERWORKS
WonderWorks, a science-focused indoor amusement park, combines education and entertainment. With over 100 hands-on exhibits, there is something unique and challenging for all ages. Feel the power of 71 mph hurricane-force winds in the Hurricane Shack. Make huge, life-sized bubbles in the Bubble Lab. Get the NASA treatment in our Astronaut Training Gyro and experience zero gravity. Nail it by lying on the death-defying Bed of Nails. Conquer your fear of heights on our indoor Glow-In-The-Dark Ropes Course.
12. TOY BOX MINI GOLF
Families check out the all-new toy-themed mini-golf located on Dollywood Lane behind TopJump. Toy Box Mini Golf offers an 18-hole outdoor mini-golf course, laser maze, massive toy photo ops, a toy store, and more! Your fun begins as soon as you arrive and enter the giant toy box building, then wind around a toy wonderland while competing against friends in a challenging game of mini-golf! You want to add this stop to your vacation plans to give the family something to talk about for years to come!
13. THE ISLAND
A great place to getaway. The Island in Pigeon Forge is filled with attractions, shops, restaurants, music, and a 200-foot-tall observation wheel! The Island in Pigeon Forge is also a great performance area for bands and choral groups. Eat, shop, play, and stay at The Island in Pigeon Forge—the premier family fun and entertainment destination in the Smoky Mountains! It's beautiful, new, clean, safe, and easy to walk! Explore our terrific family-oriented shopping and entertainment complex. Here, you'll discover more than sixty retail and specialty shops—plus several popular restaurants & eateries, rides & games, dancing fountains, live music, entertaining attractions, plus a whole lot more for the entire family. Whether you're here for a wedding, family reunion, or vacation, The Island is a key destination for affordable family fun all day and all night. So much is free, and everything is affordable.
14. SKY FLY: SOAR AMERICA
SkyFly: Soar America is a Dynamic Attraction flying theater where guests will experience a feeling of flight as they soar over some of the most iconic locations in the United States in this fully immersive experience! From the moment guests enter the building, surprises await to set the scene for what comes next! Prepare to experience the sights, sounds, and smells like never before during this one-of-a-kind adventure! This family-fun attraction is an adventure for all ages and uses state-of-the-art technologies to take guests above the clouds! Guests will be transported from The Island in Pigeon Forge to places that they otherwise may never have the opportunity to see and experience the beauty of America in a unique and unforgettable way!
15. ROCKIN' RACEWAY
There is nothing like walking thru the doors of our Giant Jukebox into the Biggest and best arcade in the Smokies and experiencing the fun and excitement of this classic arcade. From one end of Rockin' Raceway to the other, you will find games of every type and for every age of your family. Lights bells buzzers and whistles whirl away as you win tons of tickets to redeem for fantastic prizes from tootsie rolls to iPads. Then step outside and rev up the engines on the Smoky's fastest slick track. Spin your wheels as you slide thru the curves of this thrill-filled attraction. Open daily at 9 am for all your gaming and adrenaline needs.
16. ROWDY BEAR RIDGE ADVENTURE PARK
Rowdy Bear Ridge Adventure Park is located along the Parkway in Pigeon Forge, near the TITANIC Museum Attraction. The adventure park is home to several exciting thrill rides and activities including the Tubing Hill, Outdoor Axe Throwing, Power Coaster, and Laser Gun Coaster. During the summer, race down a 500-foot hill at speeds of up to 35 miles per hour with a 70-foot drop on this mountain tubing adventure. During the winter, get rowdy on the largest outdoor snow tubing hill in Tennessee. Race down the 500-foot snow tubing hill covered with real snow! Rowdy Bear Ridge is home to North America's first Alpine Flyer, an aerial twin-seat coaster that swings, dips, and soars while riders try to hit as many targets as they can. You'll also enjoy the amazing views of Pigeon Forge and the Great Smoky Mountains. Control how fast you go on the Power Coaster. Whether you prefer to take it slow or go full throttle, you're in for an awesome ride! There's also an Outdoor Axe Throwing activity for guests to enjoy. Take aim to see if you can hit the bullseye with your axe.
17. LAZERPORT FUN CENTER
Come play laser tag in LazerPort's huge arena! While there you'll also find 18 holes of blacklight mini-golf and a 43-foot high roller coaster style go-kart track. Plus in the 10,000 sq. ft. state-of-the-art arcade there are prizes to be won and fun to be had. If you need something sweet afterward, LazerPort's Ice Cream Parlor, "Sweet Sensations" is right inside!
18. TITANIC MUSEUM ATTRACTION
With over 400 real TITANIC artifacts, valued at over four million dollars, our permanent, interactive TITANIC experience goes beyond the obvious! Upon arrival at Titanic Museum Attraction, guests are greeted by one of our costumed cast members and given a boarding pass to become an actual passenger aboard the ship. Once inside, guests will step back in time to 1912 as they explore over 22,000 square feet of educational history. Our crew members honor the 2,208 passengers and crew by sharing their stories.
19. MOUNTAIN MILE & TOWER SHOPS
Mountain Mile & Tower Shops is one of the most dynamic new developments to open in Pigeon Forge with a 180,000-square-foot multi-purpose retail, dining, and family entertainment complex that spans 174 acres. The Mountain Monster, centered at the Tower Shops on the Mountain Mile, features three exciting thrill rides from a 200 ft tower that overlooks Pigeon Forge and the Smoky Mountains.
20. COUNTRY TONITE THEATRE
Voted Best Show in Pigeon Forge year after year, you'll want to book your tickets now! No matter how old you are—or young they are—Country Tonite is 'The Must-See Show' in Pigeon Forge. Located on the Pigeon Forge Parkway, our 1,500-seat, multi-million-dollar theatre is equipped with state-of-the-art sound, lighting, and video with two giant screens. Experience this two-hour powerhouse production, featuring the best singers, dancers, and musicians in the business—all on one stage in a variety of performances (not just Country). Enjoy riotous comedy acts, energetic youth performers, home-grown bluegrass, soul-stirring gospel, and patriotic songs that pay tribute to military veterans and those who bravely serve our great country every single day.
21. HOLLYWOOD WAX MUSEUM
Come Play with the Stars at Hollywood Wax Museum! You'll get the chance to pose with your favorite stars and use provided props to ham it up for super-fun selfies. Walk the red carpet with Hollywood's elite, sing along with pop stars, come face-to-face with horror villains and even put on a wedding dress and marry a star! You'll also discover little-known facts about your favorite showbiz personalities, including surprising details about their pets, pet peeves, accomplishments, charity work, and more.
22. PROFESSOR HACKER'S LOST TREASURE GOLF
Professor Hacker's Lost Treasure Golf is a miniature golf adventure like no other. Follow the path of noted explorer, archaeologist, anthropologist, paleontologist, and part-time taxidermist from the University of Chicago, Professor Duffer A. Hacker, who led two expeditions to the Fogclift Islands off the coast of South America in the 1920s. The purpose of these two expeditions was to search for ancient gold and diamond mines rumored to be hidden on the Islands. Professor Hacker's first surprise was the discovery of an old mining train built by the Germans during the First World War. Take the mining car to the top of the mountain and follow Professor Hacker as you putt your way through a fun and exciting expedition with caves, waterfalls, a pirate ship, a temple, and a volcano to find gold and diamonds. It's a one-of-kind golfing adventure.
23. GREAT SMOKY MOUNTAIN MURDER MYSTERY
Who Dunnit? The Great Smoky Mountain Murder Mystery Dinner Show is an over-the-top, interactive "Whodunnit?" that'll keep you guessing—and in stitches—till the very end. Each dinner show features three side-splitting comedy performances and a five-course meal that's truly to die for. And the content is appropriate and fun for even the youngest detectives in your family.
24. SMOKY MOUNTAIN ALPINE COASTER
Located just 1.4 miles off of the Parkway in Pigeon Forge, the Smoky Mountain Alpine Coaster is the longest in the United States. The track is more than a mile long. Plus, you get to control how fast your ride is. How cool is that!
25. OUTDOOR GRAVITY PARK
There are two ways to have this kind of fun: Fly 6,000 miles to New Zealand, or make the short drive to Pigeon Forge. The Outdoor Gravity Park is home to the iconic New Zealand adventures, OGO, and Fishpipe extreme rides. Don't miss out on the opportunity to go Zorbing where you slip, slide, and get wet (without tumbling). Serving as our facility's signature attraction, the OGO could only be straight out of New Zealand. This ball is 11 feet in diameter, bouncy, and sits perched at the top of a 1,000-foothill. In a matter of moments, you go rolling towards the bottom, and slip & slide —but no tumbling.
26. PIGEON FORGE AXE HOUSE
Nestled in the heart of the Smoky Mountains, Pigeon Forge Axe House brings one of the fastest-growing sports to Sevier County. This family-friendly experience is the ultimate adventure for those looking to step outside of their comfort zone. As a World Axe Throwing League affiliated location, all of the lanes, targets, and axes are regulation and league ready. Pigeon Forge Axe House coaches are certified and will have you throwing in the big leagues!
27. COOTER'S PLACE & MUSEUM
During your visit to the Great Smoky Mountains of Tennessee, make a stop at Cooter's Place & Museum, located at the Shops of Pigeon Forge. Owned by Ben Jones, the actor who played Cooter on The Dukes of Hazzard, this museum and store is a must-see for anyone who remembers the popular TV show of the 1970s and 1980s. For those that grew up watching Bo and Luke Duke trying to outrun the law in the General Lee, Cooter's Pigeon Forge is the attraction for you! Tour the museum that has a replica of Cooter's Hazzard County Garage, decked out to look exactly like the show. You'll find all kinds of Dukes of Hazzard memorabilia, including original costumes and props from the show, as well as collectibles and the General Lee car itself.
28. FLYAWAY INDOOR SKYDIVING
Enjoy the thrill of Flyaway Indoor Skydiving in Pigeon Forge, TN. Experience the sensation of skydiving in a 21-foot tall vertical wind tunnel with 120 mph winds. Before you enter the skydiving simulator at Flyaway Indoor Skydiving in Pigeon Forge, TN you'll be given everything you need for a successful skydive including a flight suit, goggles, earplugs, gloves, and helmet. Your indoor skydiving experience begins with a 20-minute training session, followed by 15 minutes of equipment preparation. Just about anyone of all ages can fly!
29. RIPLEY'S SUPER FUN PARK
Ripley's Super Fun Park is your one-stop destination for family fun! Race around the multi-level go-kart track or race each other on the Family Track. There are kiddie and rookie tracks for the smaller children. along with a carousel that everyone will enjoy riding. Cool off with a ride on the bumper boats where you can squirt water at each other. Or head for the arcade to play a variety of fun games. The whole family will have a blast at Ripley's Super Fun Park in Pigeon Forge!
30. ADVENTURE RACEWAY
The Pigeon Forge Adventure Raceway is no ordinary go-kart track. The Adventure Raceway go-kart track stands three levels high. Go over "The Hump" and make your way back down as you race your friends and family around the track. Go-Karts are not the only thing that Adventure Raceway has to offer thrill-seekers. Visitors can also have fun splashing around in bumper boat rides and spraying water with the Water Blaster. Adventure Raceway is open year-round but during the Off-Season it will be a limited operating schedule, so please call before to check hours of operation.
31. THE FORGE CINEMAS
Conveniently located in the heart of Pigeon Forge on the Parkway, The Forge Cinemas is the place to go for movies while you're on vacation. Features include All digital projection, digital 3-D, digital surround sound, stadium seating, high-back rocking seats.
32. PATRIOT PARK
Patriot Park in Pigeon Forge, Tennessee is another family favorite located right along Old Mill Square. The park is dedicated to veterans from Sevier County that served during wartime. The park offers a walking path, which takes you along the Little Pigeon River where you'll see flags from the 50 states and branches of the armed forces. The central point of Patriot Park is a Patriot Missile, which was made famous during the first Gulf War.
33. RAINFOREST ADVENTURES ZOO
Nestled in the picturesque town of Pigeon Forge, Tennessee, Rainforest Adventures Zoo beckons visitors into a captivating world of biodiversity and natural wonders. With its lush greenery, cascading waterfalls, and a symphony of exotic animal calls, this enchanting zoo offers an immersive experience like no other.
34. THREE MONKEYS PHOTO EMPORIUM
Three Monkeys Photo Emporium is located in the heart of Pigeon Forge, Tennessee. Our four capuchin monkeys–Sasha, Cody, Lola, and now Baby Merlin–were all born right here in the Smoky Mountains. Make a stop at the studio on your next visit for the best interactive photography experience around! Choose from a variety of elaborate costumes. Join the circus and be a star in the greatest show. Or join a pirates crew! Step aboard a pirate ship and set sail with Sasha, Cody, Lola, and their best pirate friends, Red the Scarlet Macaw and Amnaris the exotic Rose-Breasted Cockatoo. Or just monkey around and get some priceless photos!
35. MAGIQUEST
Enter the MagiQuest kingdom, cast your magic wand, and embark on exciting adventures. Here, you can search for treasure, do battle with fire-breathing dragons, and challenge evil goblins. And discover secret passages and hidden corridors along the way. After making your way through the kingdom, you can also play 18 holes of SpecialFX Pirate Golf, travel through Odyssey—the world's largest mirror maze—or race through the Vault laser challenge. MagiQuest is the fun-filled castle the whole family will enjoy.
36. ROCKY TOP MOUNTAIN COASTER
Not just another mountain coaster; an entire family experience! Sitting on over 20 acres of beautiful Smoky Mountain scenery, our coaster features plenty of tunnels, curves, and 360 degree turns. Reaching speeds of up to 30 mph, this attraction is projected to set records as the longest coaster in East Tennessee. You'll want to come visit us after nightfall where are magnificent lights will guide you through a thrill-packed excursion: an experience that will stay with you long after the ride is over! Rocky Top Mountain Coaster is something both the young and senior age can enjoy.
37. SOAKY MOUNTAIN WATERPARK
Nestled amidst the picturesque landscape of Sevierville, Tennessee, Soaky Mountain Waterpark stands as a captivating oasis of aquatic excitement and relaxation. With its sprawling expanse spanning over 50 acres, this magnificent water park beckons visitors of all ages to dive into a world of thrilling adventures and refreshing escapades.
38. THE HISTORIC OLD MILL
Built-in 1830, The Old Mill of Pigeon Forge still operates to this day! See how farmers once employed the greatest in 19th-century hydropower technology to grind flour and meal. Plus, learn how pottery and candy were once made by hand. Today, the Old Mill is a working tribute to the pioneer days of the Great Smoky Mountains. The Old Mill is listed on the National Register of Historic Places and is one of the most photographed mills in the country. Just as in the 19th century, it's still one of the most popular places in the Smokies.
39. OLD FORGE DISTILLERY
Just a few yards away from where the Head Miller grinds, fills, and ties bags of stone-ground, quality grains lies the Old Forge Distillery in Pigeon Forge. It's here, in a 100-year-old building made of Tennessee timber, that freshly ground grain is distilled in small-batch copper column stills. A tasting bar and gift shop are open to visitors.
40. GREAT SMOKY MOUNTAIN WHEEL
The Great Smoky Mountain Wheel sits at the center of The Island in Pigeon Forge, a new shopping, dining, and entertainment destination at the heart of the city. Rise 200 feet above the city for the best view of the mountains in one of the VIP wheels that is a climate-controlled, enclosed gondola on The Great Smoky Mountain Wheel!
41. BEYOND THE LENS
Beyond the Lens is a highly-interactive and immersive experience for all ages. Pairing old-school nostalgia with cutting-edge technology, you'll stir up forgotten memories and have a chance to make some new ones. Learn about the events and public figures who shaped our culture, and experience the games and entertainment that will shape our future. With dozens of thrilling photo opportunities scattered throughout, you'll take those picture-perfect memories home with you.
42. RIPKEN EXPERIENCE
The whole idea behind the Ripken Experience is that every kid deserves to feel like they're batting for the major leagues. That's why you can expect the whole nine yards here: artificial turf, lights, a state of the art scoreboard, and all on fields modeled after those used by the pros. There are full bullpens and a complete, two-story clubhouse. Kids who participate in Ripken Experience tournaments and programming get professionally coached in an environment that's both challenging and rewarding. The Ripken Experience sets out to give kids a major league experience while still retaining that carefree, relaxing environment that families enjoy.