7 Best Mini Golf Courses in Gatlinburg
Published Mar 29, 2022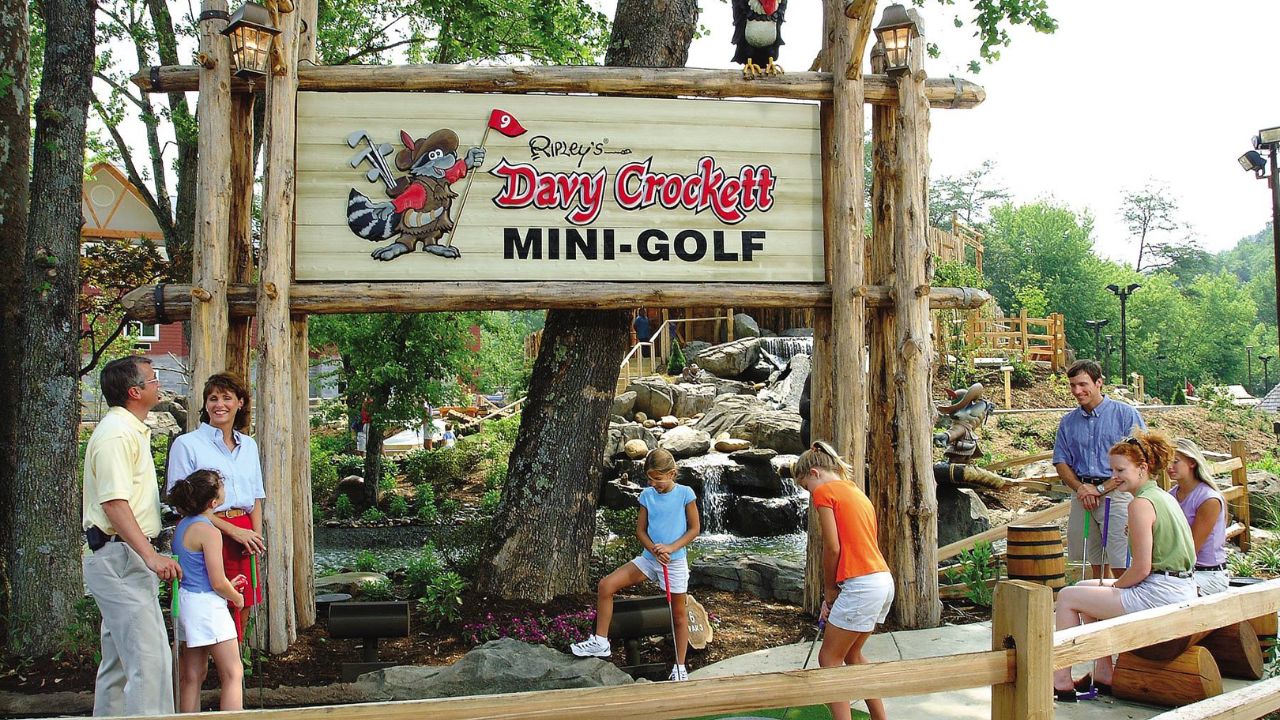 Everyone loves mini golf, whether you just play around or take it oh so seriously! Check out these top 7 Gatlinburg mini golf courses.
1. RIPLEY'S DAVY CROCKETT MINI GOLF
Play 36 holes of frontier fun and see friendly animals along the course. Open daily from 10 a.m. to 10 p.m. Everyone 12 and up plays all 36 holes for $16.99 and kids ages 3 to 11 play for $11.99. Add mini golf to other Gatlinburg Ripley's attractions with a combo ticket.
2. GATLIN'S FUN CENTER
Outdoors, one course traces the history of Cherokee Indians and early European settlers, while the second course features recreated landmarks.
Indoors, a nine-hole blacklight golf course takes you on glowing undersea adventures. All mini golf is $15.99 per round and for $5 more you can enjoy four Fun Center activities including golf. Opening time is 10 a.m. and closing times vary.
3. HILLBILLY GOLF
Ride the tram 300 feet up a mountainside, then play your way downhill on two wooded 18-hole courses with a mountain life theme. Watch for moonshine stills and outhouses! Hillbilly Golf is open from 9 a.m. to 10 p.m. Tickets for ages 4 to 12 are $8.99. Players ages 12 and up pay $12.99.
4. O'BEARS MINI GOLF
Play 18 holes with a mountain view. O'Bears Mini Golf, located at Ober Gatlinburg ski resort, is tucked at the base of Ober's scenic chairlift and is open 10 a.m. to 6 p.m. A round costs $4 for ages 5 and up. Kids under 5 play for free.
5. RIPLEY'S OLD MACDONALD'S FARM MINI GOLF
Laugh your way through this 54-hole course as animated farm animals surprise you! Old MacDonald welcomes folks from 10 a.m. to 10 p.m. Players 12 and up play for $16.99 and kids 3 to 11 pay $11.99. Combo tickets add mini golf to other Ripley's attractions.
6. CIRCUS GOLF
Circus Golf's computer animation, blacklight, and animatronics are unforgettable. This indoor course keeps you playing in comfort. Circus Golf is open from 9 a.m. to 10:30 p.m. or later. Buy tickets online for just $5.95. Tickets at the door are $10 for ages 10 and up and $7 for ages 2 to 9. Get a combo pass for golf plus the Mirror Maze.
7. TREASURE QUEST MINI GOLF
Pretend you're Indiana Jones as you pursue treasure inside a jungle temple. This indoor course is open year-round and features glow-in-the-dark blacklight holes. Treasure Quest opens at 10 a.m.
Stay in a Gatlinburg rental cabin close to the action. Take a look at our vacation rental cabins now.