9 Benefits of Staying in Our Gatlinburg Cabins on the River
Published Sep 5, 2023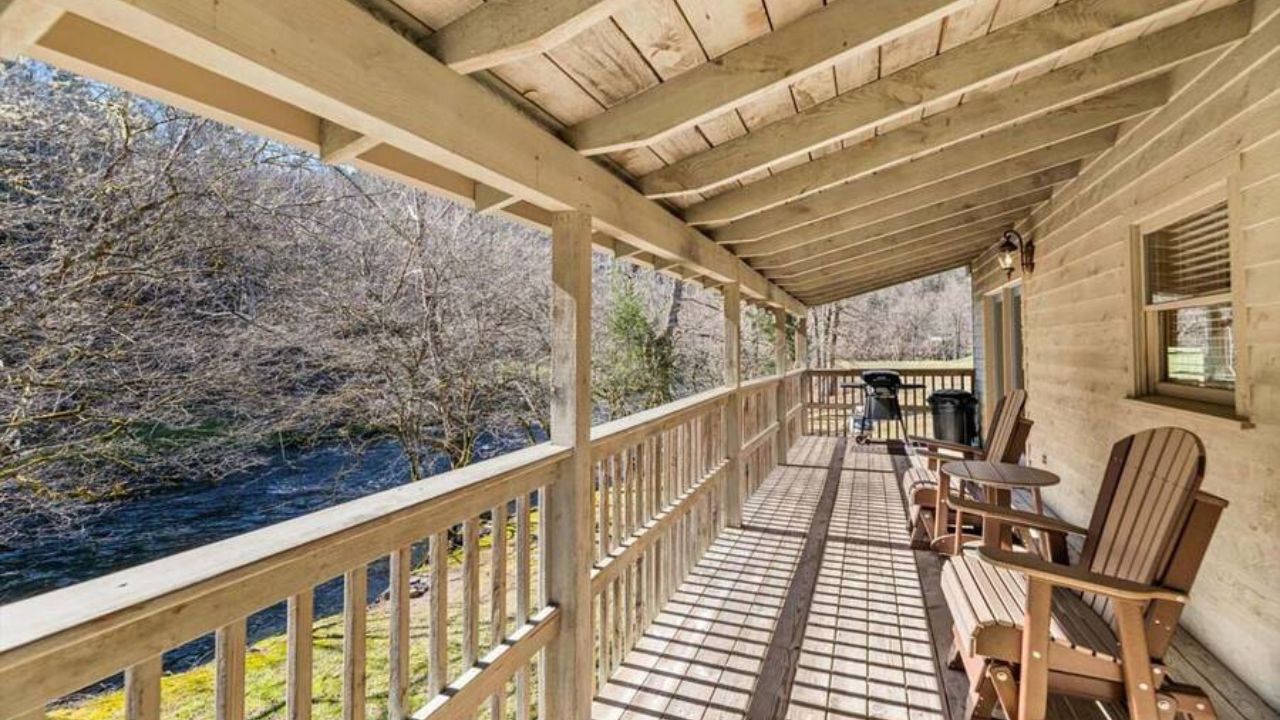 Gatlinburg, Tennessee, is a beloved destination known for its stunning natural beauty, abundant wildlife, and charming mountain town atmosphere. For those seeking a truly immersive experience in the heart of the Smoky Mountains, staying in one of our Gatlinburg cabin rentals on the river offers a unique and unforgettable experience. In this blog post, we'll delve into the numerous benefits that guests can enjoy when they choose to stay in our cabin rentals by the river.
1. Serene Atmosphere
The sound of flowing water is inherently soothing. When you stay in one of our cabin rentals on the river, you'll be greeted by the tranquil melodies of the water, creating a serene atmosphere that instantly helps you unwind and disconnect from the hustle and bustle of everyday life.
2. Scenic Views
Our riverfront cabins offer picturesque views of the river and surrounding natural beauty. Imagine waking up to the sight of the sun dancing on the water's surface or enjoying a cup of coffee on your private deck while taking in the breathtaking scenery. These views provide a truly immersive mountain experience.
3. Wildlife Encounters
Riverside cabins are often hotspots for wildlife encounters. Guests have the opportunity to spot birds, deer, and other wildlife as they come to the river to drink. Observing nature in its element is an educational and memorable experience for all ages.
4. Fishing Opportunities
For those who enjoy fishing, staying in a cabin on the river provides convenient access to some of the best fishing spots in the area. Grab your fishing gear and cast your line right from your cabin's doorstep. It's an excellent way to relax and enjoy the outdoors.
5. Relaxing Soundscapes
The gentle, rhythmic sound of the river serves as a natural relaxation soundtrack. It's perfect for unwinding, meditating, or simply falling asleep to the soothing symphony of water passing over rocks.
6. Outdoor Activities
Riverside cabins are ideally located for a variety of outdoor activities. Whether you're interested in hiking, picnicking, or simply strolling along the riverbank, you'll find plenty of opportunities for recreation just steps away from your cabin.
7. Privacy and Seclusion
Cabins on the river often provide a higher degree of privacy and seclusion compared to cabins in busier areas. This privacy enhances your overall experience, allowing you to connect with nature and each other in a peaceful and undisturbed environment.
8. Easy Access to Water Fun
Staying in a cabin by the river means you can easily indulge in water-based activities such as tubing, kayaking, or even just wading in the cool waters during the warmer months. These activities add an extra layer of excitement to your vacation.
9. Unforgettable Memories
The unique combination of serene surroundings, stunning views, and natural beauty makes staying in a cabin on the river a memorable experience. Whether you're celebrating a special occasion or seeking a family adventure, the memories created here will be cherished for years to come.
Our Gatlinburg cabin rentals on the river offer a myriad of benefits that enhance your Smoky Mountain getaway. From the serene atmosphere and scenic views to wildlife encounters and easy access to water-based activities, these cabins provide a unique and immersive experience in the heart of nature. At Colonial Properties, we are committed to ensuring that your stay is filled with unforgettable moments. Book one of our riverside cabins today and discover the magic of the Smoky Mountains from your own private paradise by the river.