Exploring the Dollywood Park Map
Published Feb 26, 2022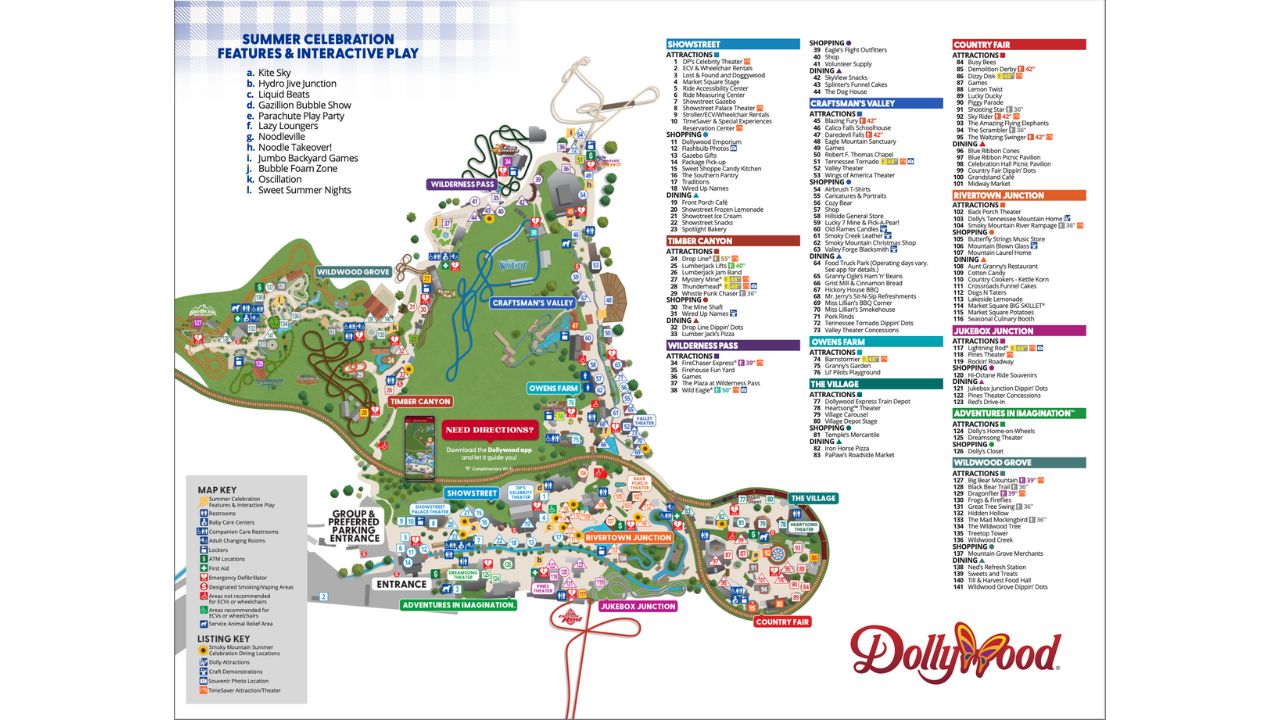 Dollywood is a whopping 160 acres, the size of 121 football fields! Navigating this world of wonders is simpler with the right map. Here are quick tips for making the most of the theme park's detailed map.
1. USE THE MAP ON DOLLYWOOD'S MOBILE APP.
You'll get not only the park map but also helpful tools! Check the wait time for rides. View show schedules. Pinpoint restaurants closest to you at that moment, so you always know what's nearby.
2. CARRY A PAPER MAP, TOO.
Sometimes, scrolling around on a map image isn't convenient. Bring a paper map along, too. Be sure everyone in your group has paper maps if they don't want to load an app.
3. GET FAMILIAR WITH THE MAP BEFORE YOU ARRIVE.
A little advance planning helps everyone do what they most want to do here. Use the map to plan where you'll spend your time: Maybe one adult can take the kids to the games and rides in the Country Fair, while another goes to a show on nearby Showstreet.
4. PICK A MEET-UP SPOT.
Every group should have a designated rendezvous where you'll meet if you get separated or if you just want to go your separate ways for a little while.
5. LOCATE SERVICES.
Your map highlights necessities like restrooms, first aid stations, and ATMs. But it also clues you in to convenient extras. Look for lockers throughout the park. There are baby care facilities, adult changing rooms, and companion care restrooms. The map even points you to "service animal relief" areas. Dollywood thought of everything!
6. PLAN YOUR ROUTES BETWEEN RIDES.
So you're here for big-time thrill rides? Find the shortest routes between these popular rides and save time.
For example, instead of heading straight ahead when you enter the park, hang a left. See the short path on the map? It's easy to miss! It heads directly toward the Thunderhead wooden coaster and Mystery Mine steel coaster, without having to walk through the rest of the park first. Combine this with the app for ride wait times and you're tackling Dollywood like a pro.
7. EXPLORE DOLLYWOOD'S NEIGHBORHOODS.
Dollywood has 11 sections, each with its own lively personality, from 1950s-themed Jukebox Junction to nature-inspired Wildwood Grove. The map lays out areas both on the park image and in a handy list. You can see at a glance, for instance, that if you want more dining options, you should head to Craftsman's Valley or Rivertown Junction.
After a day at Dollywood, come home and relax in a vacation cabin with terrific Colonial Properties service. Book your Smoky Mountains cabin now.