10 Mini Golf Courses You Have to Play in Gatlinburg and Pigeon Forge
Published Nov 15, 2022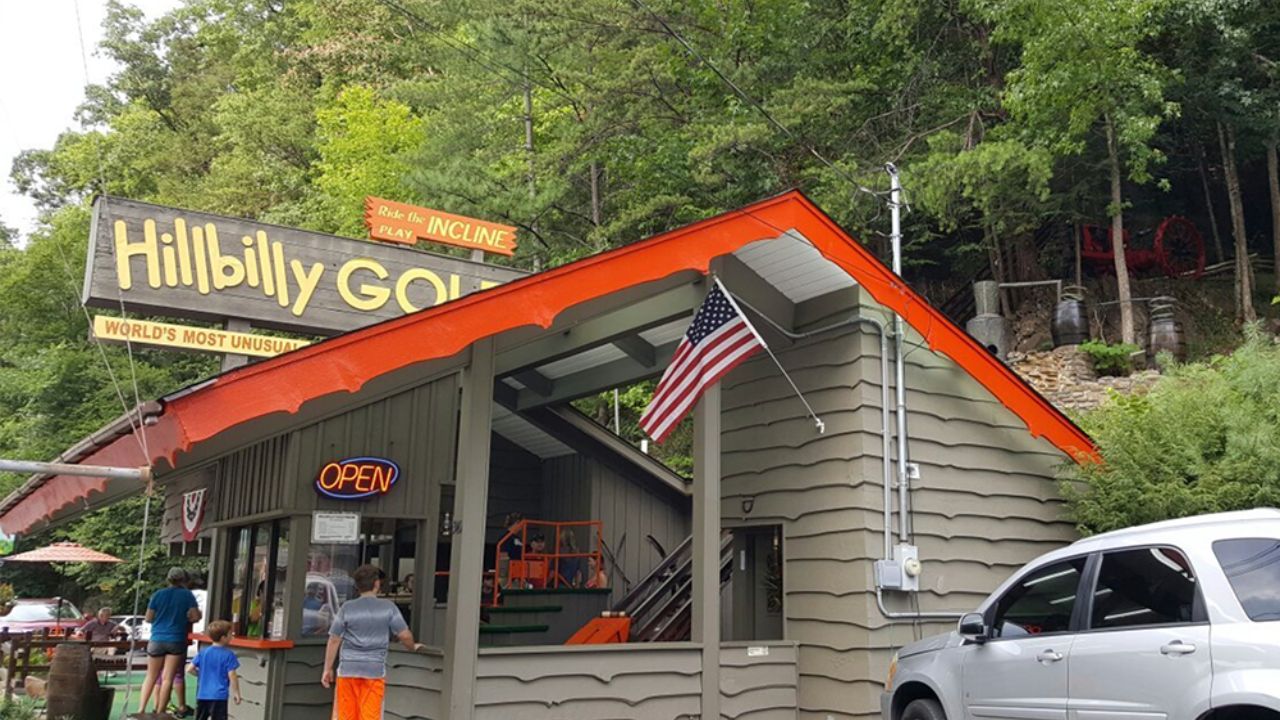 Grab a putter, pick a colorful ball and enjoy family time on these themed mini golf courses!
1. CRAVE GOLF CLUB
Play on a rooftop or 19-hole indoor course at this candy-themed wonderland. Enjoy escape rooms and mini bowling, too. Try the candy shop for an after-golf sugar rush!
2. TOY BOX MINI GOLF
Imagine childhood toys so huge, they tower over you! Putt around a gigantic Slinky, Rubik's Cube, and other familiar favorites. Don't let those sky-scraping Rock 'Em Sock 'Em Robots scare you!
3. GATLIN'S MINI GOLF
Play on two outdoor courses set on a lushly landscaped hillside. Discover all about the Cherokee people, early European settlers, and Gatlinburg landmarks while you play. Indoors, boggle at the glowing colors of the blacklight golf course.
4. HILLBILLY MINI GOLF
Ride the railway up the mountainside, then play downhill on one (or both) courses through hillbilly obstacles. Did you knock a ball into that moonshine still? Can you ricochet a shot off the outhouse?
5. RIPLEY'S DAVY CROCKETT MINI GOLF
Watch out for golf-ball-gobbling animals, river rapids, an unexpected country band, and hilarious surprises. Conquer these two courses like you're Davy Crockett, "king of the wild frontier."
6. PROFESSOR HACKER'S LOST TREASURE GOLF
Dust off your Indiana Jones hat! Jump on the old mining train toward your quest for legendary treasures. Putt through caves, a pirate ship, a temple, and a volcano.
7. RIPLEY'S OLD MACDONALD'S FARM MINI GOLF
On this farm, the animals have an attitude. With three 18-hole courses in this barnyard, you'll find challenging holes and delightfully distracting new friends, like pigs on a seesaw, chickens who sing, and curious cows.
8. LAZERPORT FUN CENTER
Green aliens and spaceships are around every corner at this indoor blacklight course. When you've saved Earth from the invasion, reward yourself with laser tag, go-karts, or arcade games.
9. CIRCUS GOLF
Take a circus fun house, mash it with mini golf, then turn out the lights! Fluorescent neon colors pop in the dark as you play blacklight golf with a glow-in-the-dark ball.
10. Pirate Golf at MagiQuest
Play your way through a pirate village and across a pirate ship on this indoor blacklight course! Villagers entertain you, and if you hit a hole-in-one at the end, Blackbeard himself might appear.
Stay in a Pigeon Forge or Gatlinburg cabin close to town, so you're always just minutes from another terrific mini golf course!