Top 7 Reasons to Take a Ride on the Gatlinburg Chair Lift
Published May 11, 2023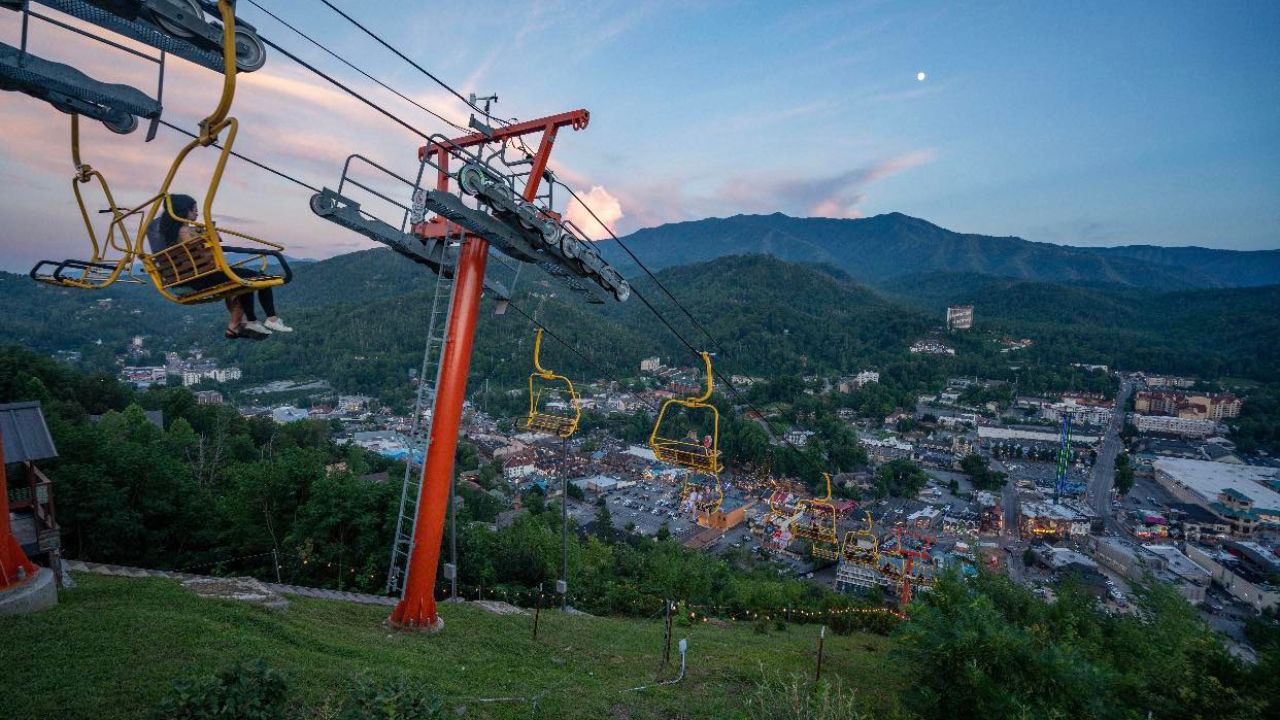 See the Smoky Mountains from a gently soaring chair lift at Gatlinburg SkyLift Park. These views are unparalleled anywhere in Tennessee, and the ride takes you to fresh adventures at the top of Crockett Mountain. See why you should give the SkyLift a try!
1. Higher Than Ever
Catch this ride in the heart of Gatlinburg's Strip. SkyLift Park fits right into a day of downtown fun! This recently renovated chair lift is better than ever, with chairs seating three passengers, a lift that's up to 10 feet higher than before, and a ride nearly 10 minutes long each way. More height, more excitement, more expansive views!
2. Take In Breathtaking Views
As you glide up, 500 vertical feet, mountain vistas unfold around you. In a chair lift, you get unobstructed views because there's no roof, wall, or window between you and the glorious Smokies
3. Be Part of Gatlinburg History
When you dangle your feet from one of these sunshine-yellow chairs, you're part of a Gatlinburg tradition. Since 1954, generations of visitors and locals have loved this iconic ride. Some families return year after year for annual photos on the chairlift.
4. Dare to Cross a Unique Bridge
Just wait until you see what's waiting for you on the mountaintop: The SkyBridge. Stroll this 700-foot-long bridge, hundreds of feet above the valley floor. It's the longest pedestrian suspension bridge in all of North America! Glass flooring makes you feel as if you're walking on air.
5. Climb Even Higher
Stretch your legs on the SkyTrail. This level walking trail hugs the mountain's curves to give you a relaxing stroll with unparalleled views. Cross the rope bridges to the 70-foot-high Tulip Tower for views over the ravine.
6. Enjoy Tasty Eats and Cold Brews
All the fresh air will whet your appetite! Take a break at the SkyCenter. Nosh on savory chili, pizza, hot dogs, or chili. Enjoy crisp salads, fresh wrap sandwiches, or crunchy nachos. Dine inside or outdoors on the spectacular deck.
7. See Gatlinburg After Dark
SkyLift Park is open late so you can see Gatlinburg and the Smokies by both day and night. Get a ticket for a single visit, or buy a ticket for unlimited rides on the same day. You can start and finish your day on top of Crockett Mountain!
Stay in a Gatlinburg vacation cabin and you can ride the SkyLift again and again. Reserve your cabin today!