Twinkling Holiday Lights at Shadrack's Christmas Wonderland
Published Sep 11, 2023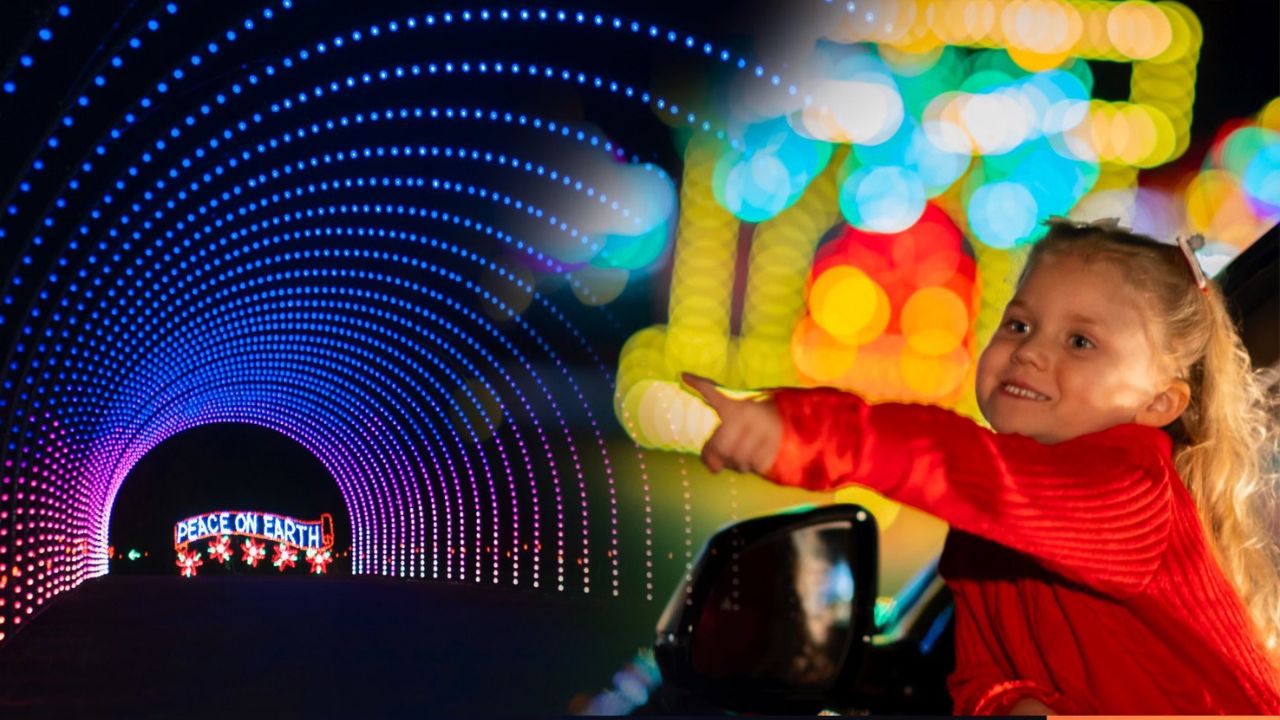 Treat your family to a sparkling holiday delight! Head for Shadrack's Christmas Wonderland, Sevierville's beloved drive-through light show, open Nov. 17, 2023 through Jan. 7, 2024.
This winter, Christmas Wonderland is growing, with a new location and a longer drive through more displays. End with a stop for hot chocolate and a chance to meet the Jolly Old Elf himself!
Angels, Animals and Stars
Shadrack's new home is Sevierville's Soaky Mountain Water Park, giving the elves more space to work their magic. This year's light show features 25-foot-tall trumpeting angels. Walls of light will dazzle you. A pathway paved with stars will lift your spirits!
Get ready to laugh, too. The theme is "Santa's Safari" and you'll love the safari animals and their North Pole buddies enjoying comical holidays. Don't miss what happens when hippos play keep away! Shadrack's displays are custom-built, so you won't see these delightful scenes anywhere else.
Visit Snowy Mountain Village
Wind down with a stop at the new Snowy Mountain Village inside the water park grounds. Warm up with refreshments, enjoy kids' activities and buy souvenirs to remind you of Christmas Wonderland all year long. On select nights, Santa pops in!
Ticket Sales
Shadrack's Christmas Wonderland is open every day between Nov. 17 and Jan. 7, including holidays. This is a great outing after Thanksgiving dinner or on Christmas night.
Tickets are per vehicle, not per person. You'll save some dough (to spend on holiday presents, of course!) if you buy early. Here's how pricing works:
Admission Mondays through Thursdays: Buy a "value ticket" for $34.95 per carload of up to eight passengers. Hours: 6 to 10 p.m. (Dec. 11 through 25, you must have a standard ticket, not a value ticket.)
Admission Fridays through Sundays: Buy a "standard ticket" for $39.95 per carload of up to eight passengers. Hours are 6 to 10 p.m. but Christmas Wonderland may stay open later on some weekends.
Buy tickets online in advance or at the gate when you arrive. Look for discounts online if you buy tickets before opening day. Shadrack's Christmas Wonderland stays open even in the rain.
After the Show
Relax in your cozy vacation cabin. Pick one that's decorated for the holidays. Light a fire in the fireplace and keep the festivities going with hot toddies for mom and dad. We've got your perfect winter getaway cabin right here!