Top 4 Kid Friendly Cabins in Gatlinburg
Published Feb 8, 2022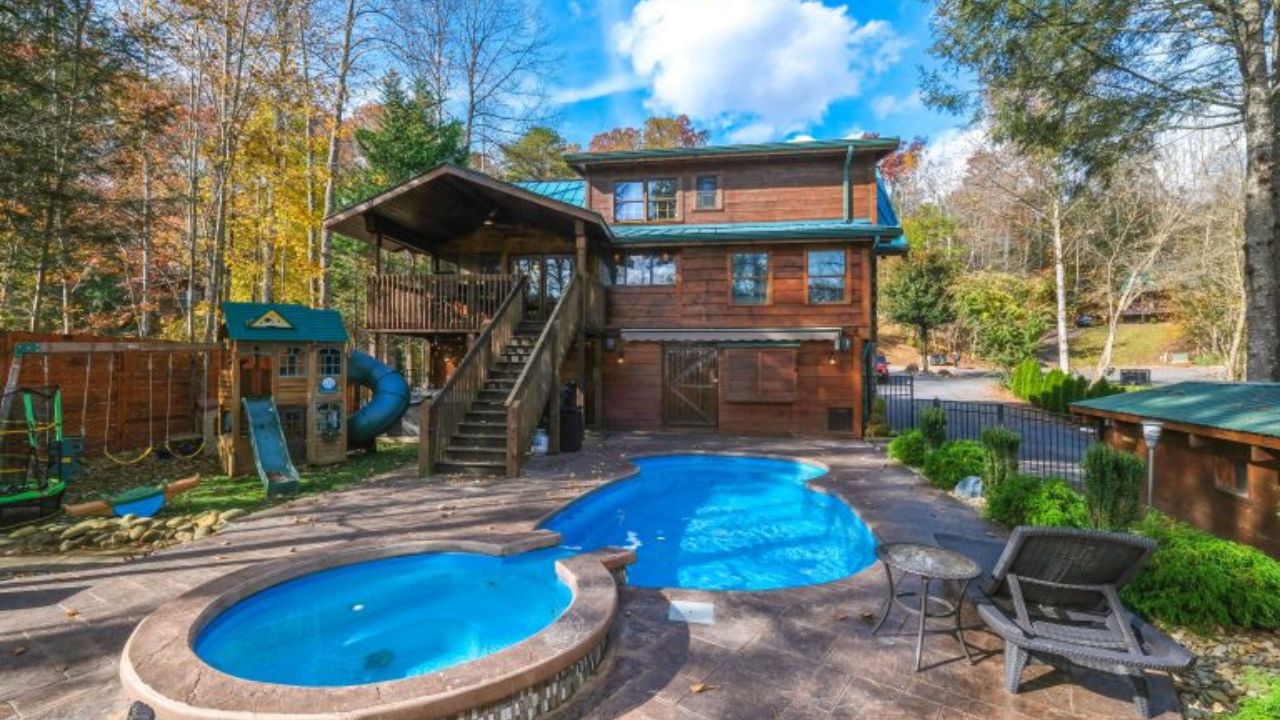 What makes a cabin "kid-friendly"? Look for games, sleeping spaces designed for kids, and a location where kids can play outdoors. Check out these four Gatlinburg cabins.
1. PITTER PATTER
Welcome to a kid's paradise. The private, heated pool is all yours, 24/7. The pool faces an outdoor entertainment system, so kids can float while taking in a movie!
The wooden playhouse boasts two slides, a swing set, and a mini-trampoline. A second playhouse is sized just right for the smallest guests. The unusual "beach" area lets kids build real sandcastles or swing in a relaxing hammock.
Indoors, play air hockey, ping pong, pool, or darts. The classic video arcade console is loaded with games–hold a family tournament! The five-bedroom cabin accommodates up to 11 guests.
2. BLISSFUL WONDERLAND
In this luxurious two-bedroom cabin for six, discover amenities sure to help kids relax. A comfy bunk room gives kids their own space. In the living room, try the shuffleboard table and the coffee table cleverly doubling as a foosball game. Explore the heavens with the cabin's telescope. A seated two-player video game console is primed for hours of play,
On the deck, an oversized checkerboard invites you to play this classic game with the kids. A porch swing and hammock are cozy spots for reading. Tell stories around a crackling blaze in the fire pit while you make s'mores.
3. NORTON CREEK HIDEAWAY
Imagine a place where you can connect with nature and disconnect from the hustle and bustle of everyday life. Norton Creek Hideaway is that place! This 3.13-acre property is the perfect place to gather your closest friends and family for a Gatlinburg getaway. Here, you can lounge around in the picnic pavilion, take a dip in the crystal-clear trout stream, or simply enjoy the fresh mountain air. With plenty of space for up to twelve guests, Norton Creek Hideaway is the perfect place to relax, reconnect, and recharge. So, come on down to Gatlinburg and enjoy all that Norton Creek Hideaway has to offer!
4. BRIGHT SIDE OF THE ROAD
Sometimes "kid-friendly" is all about staying close to all of the fun of downtown Gatlinburg. This cabin is surrounded by mountain views, attractions, restaurants and shopping. Splash and play in the private outdoor hot tub, relax and the expansive deck, or play around in the well appointed game room.
With ample living space, 2 living areas, a gourmet kitchen and other wonderful family-friendly amenities, this is the perfect cabin for your Gatlinburg getaway.
Book a Gatlinburg kid-friendly cabin today, or ask us to help you find your family's dream cabin. We're always glad to help.