Top 4 Mountain Coasters in Gatlinburg and Pigeon Forge
Published Feb 1, 2021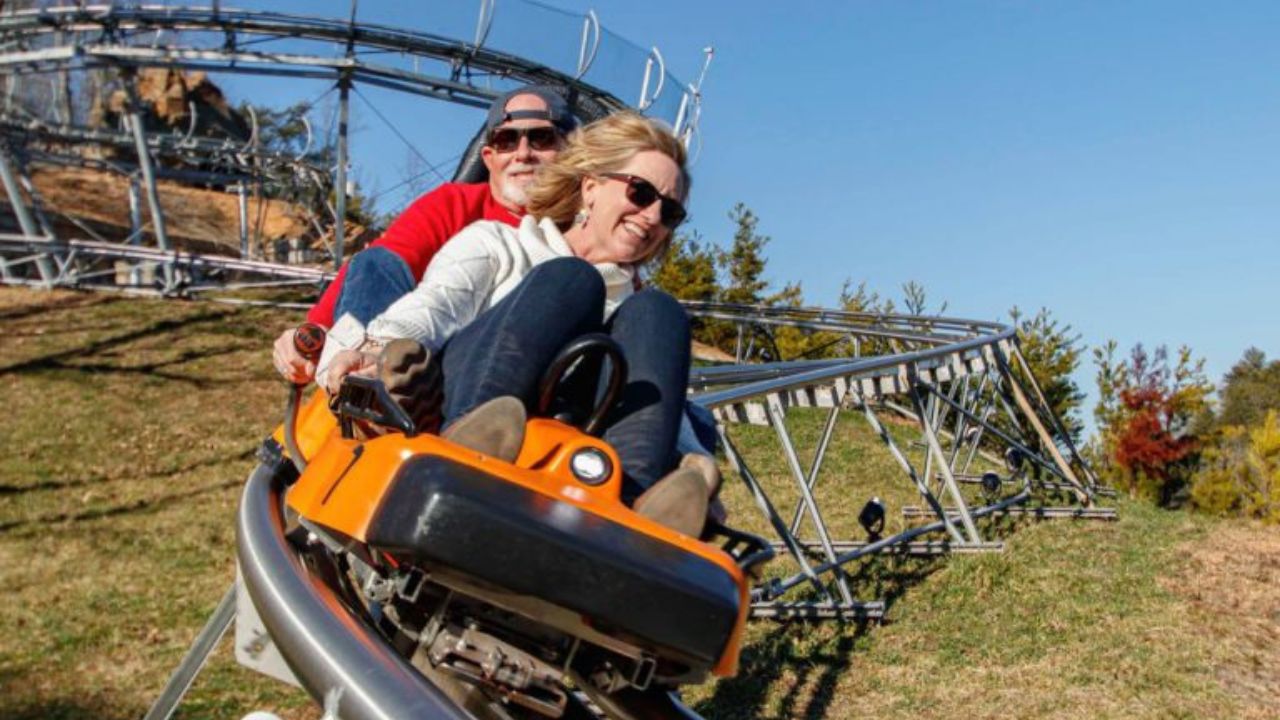 For thrilling, all-ages fun in the Smoky Mountains, fly downhill on one of our alpine mountain coasters! These "gravity coasters" use natural inclines like our lovely mountain foothills to give you an unforgettable ride with bonus views all around you.
Ascend to a hilltop, then race back down in a coaster car. Go fast, or brake for a slower descent. Mountain coasters are a great alternative to roller coasters because you're in control. Check out four of the best mountain coasters in Gatlinburg and Pigeon Forge.
1. MOONSHINE MOUNTAIN COASTER
Day or night, rain, shine, or snow, this coaster adventure is open. The uphill lift system carries you to the top, and you speed back down in your car as fast as 30 miles per hour, but the control is all yours. This is a smooth, "silent" track but you might just shout as you rush through the twists and turns! Look for specials like the solo unlimited one-hour pass and the all-day pass.
2. GOATS ON THE ROOF
Enjoy the leisurely ride as the track pulls your car to the wooded hilltop. Then feel the rush when gravity takes over. Plunge downhill at up to 30 miles per hour. This mile-long track loops and turns in a smooth ride with gorgeous mountain views on the way down. Your trip ends at the doorstep of Goats on the Roof, the unique, popular attraction where goats munch grass on top of the tempting sweet shop (for humans only!). Kids will love peeking at the goats from above as they ride the coaster with you!
3. ROCKY TOP MOUNTAIN COASTER
Zip through four themed tunnels and around 360 degree turns at Rocky Top. This is the longest coaster in east Tennessee, and kids as young as three can ride along. Ride during the day or come after dark to experience a night ride through twinkling lights. Ask about half-price second rides and other deals.
4. SMOKY MOUNTAIN ALPINE COASTER
You're invited to try the longest downhill ride in the United States, at more than a mile from start to finish! Control your own speed as you swoop around the giant loop and sail downhill. Smoky Mountain Alpine Coaster is ready for you day or night, in rain or snow, too. Kids ages three to six ride along with an adult (at least 16 years old) for a special rate.
After a day of coasting fun, come home to your private cabin to relax after the excitement. Book your Smoky Mountain cabin with us today.