10 Great Cabins Between Gatlinburg and Pigeon Forge
Published Mar 19, 2021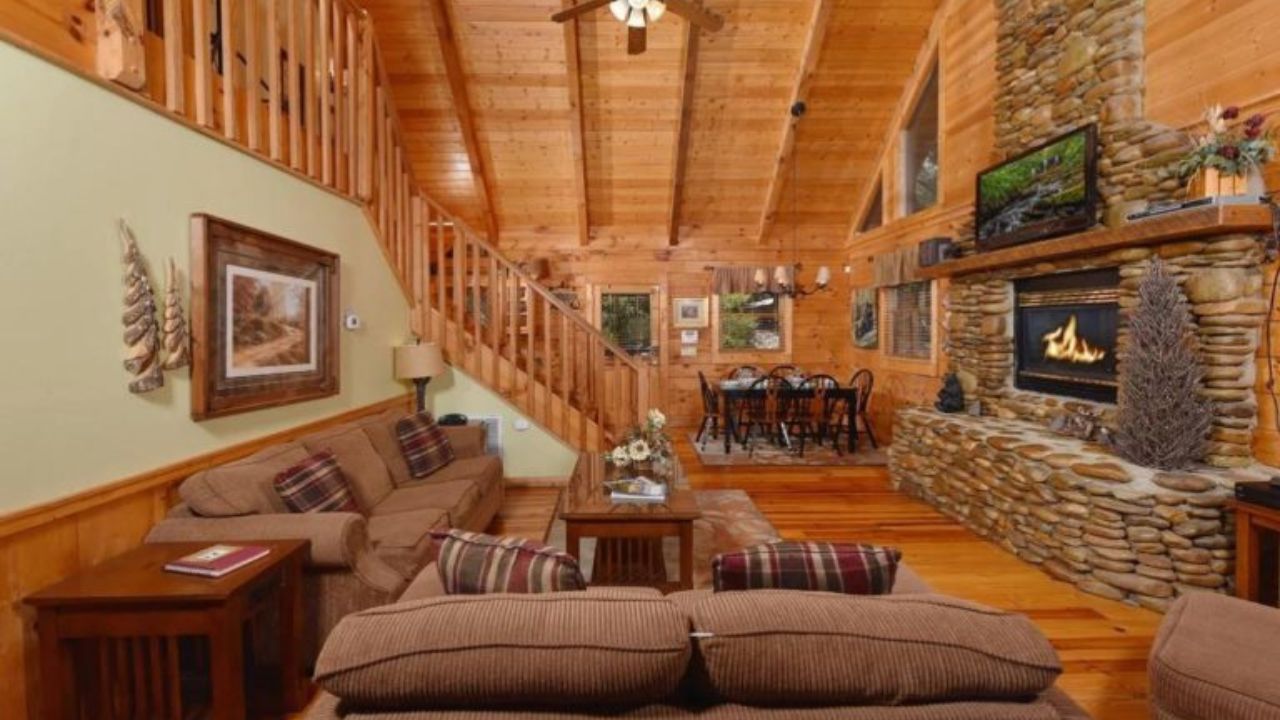 If you're looking for a place to stay in the Smoky Mountains, you'll love these 10 cabins located between Gatlinburg and Pigeon Forge. With incredible amenities and stunning views, these cabins are perfect for any vacationer. So, don't wait any longer – check them out today!
1. BEAR CAVE
This one-bedroom cabin for three is your cozy, private retreat, perfect for a couple's getaway to the serene Smoky Mountains. Perched on a hillside and tucked into the woods, Bear Cave surrounds you with cooling shade and peaceful quiet. It's only minutes from Pigeon Forge, but you might never want to leave.
2. BEARWATCH
Nature surrounds you at Bearwatch. Two covered decks are great perches for watching wildlife. Indoors, the game room's ready for foosball or pool. The two bedrooms include ensuite bathrooms, and the king bedroom has a bedside jetted tub.
3. BLISSFUL WONDERLAND
This two-bedroom cabin is luxurious. Soak in splendor in the hot tub gazebo. Warm-up by a crackling fire pit on the deck. The master bedroom's heart-shaped tub and log bed whisper "Romance" while the second bedroom's bunks and arcade games say, "Fun"!
4. HICKORY HILL
With four bedrooms, Hickory Hill sleeps up to 14. The master suite offers expansive windows and an exposed beam ceiling. Kids love the bunk room! The arcade games and pool table spark competitions. Kick back in rocking chairs on the deck and enjoy the fire pit.
5. MOUNTAIN WHISPERS
This two-bedroom, three-bathroom amenity-stocked cabin is perched high in the trees, featuring amazing views and offering a relaxing Gatlinburg vacation experience. With a game room, entertainment area, and plenty of outdoor spaces, your family will feel right at home!
6. A MOUNTAIN HAVEN
Spend your vacation on a mountaintop, gazing out over the peaceful views from A Mountain Haven. This recently remodeled, bright, and roomy jewel sits halfway between Pigeon Forge and Gatlinburg, so you can reach all the fun, food, and entertainment of either town easily, yet you're in a remote and private setting. The cabin sleeps up to four guests with one master bedroom suite and an extra sleeping area with its own full bath.
7. A MOUNTAIN HIDEAWAY
Escape to the perfect retreat at A Mountain Hideaway where you can enjoy stunning views, privacy, and a newly installed deck. This one-bedroom plus loft, two-bath cabin nestled on a mountaintop is the ideal getaway for anyone seeking tranquility.
8. ALMOST HEAVEN
The breathtaking fireplace reaches to the ceiling, where picture windows frame the views at Almost Heaven. Eat home cooking or takeout at the fireside dining table. The master suite in this two-bedroom cabin indulges you with an oversized Jacuzzi and a second fireplace.
9. OAK TREE LODGE
Three covered decks make this a two-bedroom delight for nature lovers. Watch animals and enjoy lush foliage. Both king bedrooms have jetted tubs. Enjoy the lodge-inspired living room decor, roomy open-plan kitchen, and loft game room.
10. FOREVER MINE
The charming one-bedroom, one-bathroom Forever Mine is the perfect intimate space to escape reality with the love of your life! Forever Mine is conveniently located near downtown Gatlinburg and the Great Smoky Mountains National Park, giving you quick access to all of the wonderful things to see and do in the area. Come back to Forever Mine in the evenings for quiet time and snuggling!
If you're looking for a relaxing getaway, consider booking one of these cabins. With easy access to all the attractions and activities in Gatlinburg and Pigeon Forge, as well as plenty of peace and quiet at your cabin, you'll have everything you need for an unforgettable vacation. Reserve your cabin today!